Audio/video not available at present, sorry)
---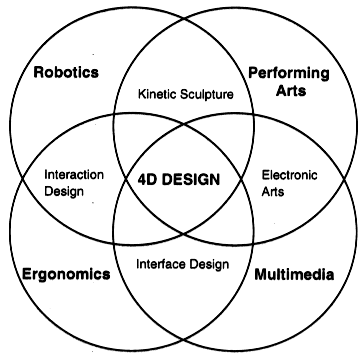 4D Design Concept Visual
(Click to enlarge image then BACK button to return.)
Conference papers by Alec Robertson
.. "4D Futures" .. "4D Product Design" ..."Applied Performance"


AUDIO statement. (Beware: 120k AIFF)

---

Optik Performance Company.
Paper by Barry Edwards of OPTIK

Audio 1 (aiff 93k) / Audio 2 (aiff 15k).

---

TechnoSphere, an evolution simulator.
MOVIE (Have you the plug-in? Beware 471k)
Paper by Gorden Selley on 'TechnoSphere'.An A-life ecology on the Internet.

---

MIMETICS

The Mimetic Starfish - a responsive installation of the mimetic starfish, which looks and behaves as if it were alive, its tentacles reaching out to the visitors hands...It is an example of Artificial-Life that is both engaging and provocative. A work of Richard Brown.

---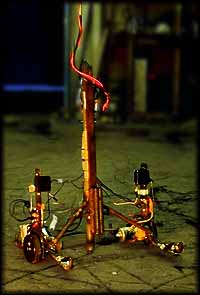 Interface-webmachine project
Art exploring robotics and technology issues from young Canadian artist called Garnet Hertz.

---

eDances
Dances designed specifically for the internet with the choreography by Richard Lord.

---

Flocking Seven Dwarf Robots
Flocking Seven Dwarf Robots Members of the Cybernetic Intelligence Research Group have constructed a group of five autonomous mobile robots which are equipped with an infrared communication and localisation system as well as ultrasonic sonar for detecting obstacles.

---

4D Fractal Consciousness
This project is an experiment in visualizing four-dimensional space in regard to interactivity of a collective nature. In trying to portray the character that has the consciousness of a number of people, Zarinmedia has facilitated a real time interaction between multiple-users through an on-line interface.

---
4D LIGHTS
The exhibit was a result of an MA study at De Montfort University, Leicester, UK which explored and demonstrated the potential of 4D design within the context of craft objects using new technologies of multimedia and simple mechatronics control of lights.

---

Design Pilot Games.
Auctions, playing the stock market,flirting, these are all phenomena that belong to the category of games, just like poker. This site illustrates a 4D design project between the University of Art and Design Helsinki UIAH and Tampere University .

---

www.dance-interactive.web.com.
Home of BEDFORD INTERACTIVE D A N C E R E S O U R C E S with a variety of Performances to see.

---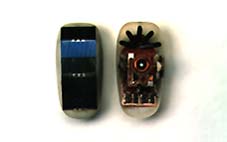 Exhibit pending.
Description pending- PLEASE SUGGEST ONE!

---
To propose an exhibit at the '4D Virtual Exhibition' please contact Alec Robertson, Exhibition Curator.

'4D Dynamics Conference.'on-line proceedings.

'4D FORUM'discussion points.

HOTLINKS : to design organisation WWW SITES.

CYBERBRIDGE-4D DESIGN : Home page.