---
Anne Chick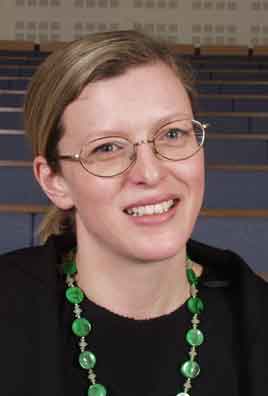 Anne Chick MA, FCSD, FRSA,
Designing for Sustainability Research Group,
Faculty of Art, Design & Music
Kingston University
Knights Park
Kingston upon Thames
Surrey, UK. KT1 2QJ

Email: A.Chick@kingston.ac.uk
Tel: +44 (0)20 8547 7410 Fax: +44 (0)20 8547 7186

Profile
---
Anne is a researcher and writer in the area of 'designing for sustainability'.

She is a Reader in Sustainable Design in the Faculty of Art, Design & Music at Kingston University. An active campaigner and researcher in the Designing for Sustainability field for over a decade, she is known internationally for her work and publications.

From 1995 until 1998 she was joint founder and co-ordinator of the Centre for Sustainable Design. Now Anne co-ordinates the Designing for Sustainability Research Group whilst undertaking research into the specification of recycled materials and the design of Corporate Sustainability Reports. She is also in the process of completing her Doctorate at Warwick University.
---
Click for SLIDE SHOW
(Transcript and video clips to follow)
---